Badger Pass Site UHF DMR/Analog FM
Mac Pass Repeater Group WR7HLN
Contact: Tom WR7AGT [email protected]


Repeater particulars:
444.100 MHz, plus 5 MHz offset
DMR admission: Color Code 2
DMR Radio ID: 313004
Note: Color code is different from what is used at most other MPRG sites

Location:
15 miles west of Dillon, high atop Badger Pass with a great view of the Dillon Valley, 7250 feet above sea level

Equipment specifics:
Motorola SLR 5700
Commscope DB-420 9dBd omni pattern. Tower height is 50 feet, repeater antenna is on top. Antenna HAAT = 902 feet

Operational mode:
Single-mode, DMR only

Networking:
DMR: Brandmeister via Ubiquiti microwave radio to N7YET Larry's house south of Dillon.

Power:
This is the only MPRG site without commercial AC power. The DC solar plant consists of four Kyocera 140 watt panels on a home-brew frame (thanks to Don W7MRI for designing and building the frame for us) bolted to the roof of the building, a Morningstar TriStar MPPT 60 controller, and 6 Trojan 2 volt 1050 amp hour flooded lead-acid batteries.

Static talk groups:
Time Slot 1 3130 Montana Statewide, 313004, 8 MPRG Cluster
Time Slot 2 31301 MPRG1 Mac Pass Repeater Group

Dynamic talk groups:
Time Slot 1 All BrandMeister talk groups
Time Slot 2 PLEASE DO NOT USE TIME SLOT 2 for dynamic talk groups

Remarks:
Coverage includes the city of Dillon, Dillon Valley, MT-41 to Whitehall, Bannock, I-15 south past Lima and north to Divide.

6/12/20 Hytera repeater swapped for a Motorola repeater. The site is now DMR-only, there is no analog EchoLink mode.
4/27/19 Microwave radio link came back to life on its own. Badger Pass repeater is back on BrandMeister.
Winter 2018/19 Microwave radio link has failed so this site is stand-alone, no analog or digital networking until a site visit can be made Spring 2019.
5/29/18 Solar plant tested by Tom, no problems found.
5/27/18 Hytera repeater removed for repair, replaced with a Motorola SLR 5700.
5/21/18 Due to issues with the DC power plant, the repeater transmitter has been reduced to 5 watts. MPRG1 31301 talk group is scheduled static from 7am to 7:30pm MDT.
5/14/17 Ubiquiti microwave radios installed at the site and at Larry's house. Badger Pass repeater is now fully networked analog EchoLink and digital BrandMeister.
4/30/17 Hytera RD982 repeater installed at Badger Pass. Analog FM with EchoLink networking is operational. DMR is single-site, IP microwave radio has been ordered which will enable BrandMeister networking.
3/14/17 New Hytera RD982 repeater for Badger Pass was received at the Henderson facility. It has been configured and is being tested in the lab. We expect to install it at the Badger Pass site early April, operating in Dynamic Dual Mode, but initially only with EchoLink networking. DMR digital mode will be single-site, stand-alone. BrandMeister networking will follow after an appropriate IP microwave radio is purchased and installed.



Coverage map depicting the service area of the Badger Pass UHF DMR repeater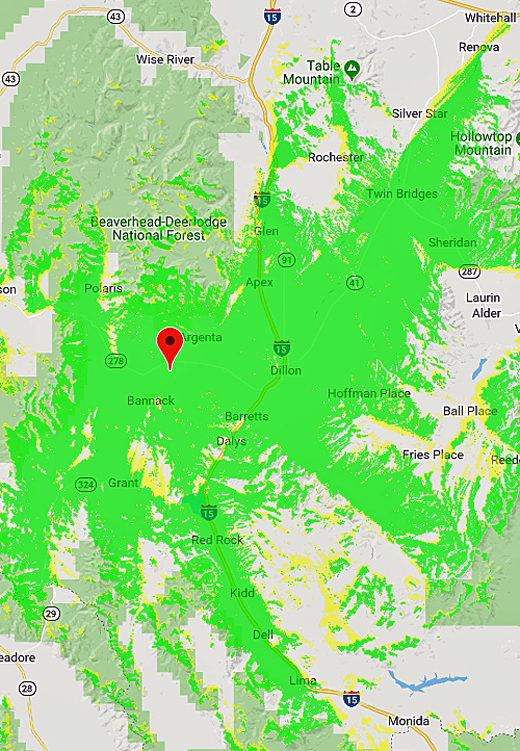 View of the site showing the tower, building, solar panels, and outhouse.
Aerial photo by Larry Anderson N7YET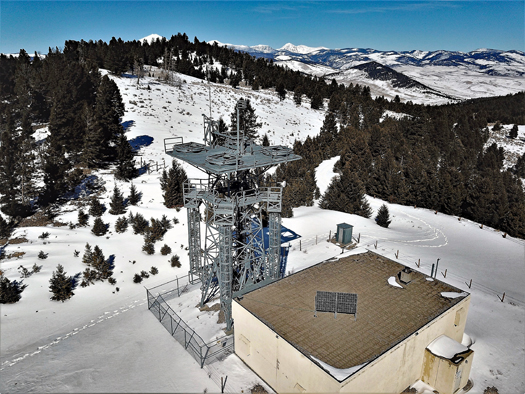 Ubiquity PBE-500AC-ISO provides access to the Internet for the repeater.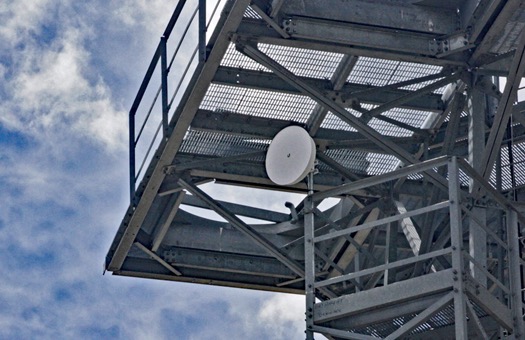 Solar panels on the roof of the Badger Pass site building.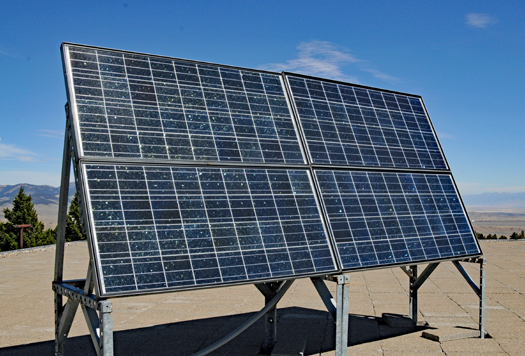 Hytera RD982 repeater. On the other side of the panels are a duplexer,
power distribution panel, low-voltage disconnect, and a PoE injector.