Toston Site UHF DMR/Analog FM
Mac Pass Repeater Group WR7HLN
Contact: Tom WR7AGT [email protected]


Repeater particulars:
449.300 MHz, minus 5 MHz offset
DMR admission: Color Code 1
DMR Radio ID: 313007

Location:
Just off US 287, 1 mile northwest of Lombard, 4.8 miles southeast of Toston, 4575 feet above sea level.

Equipment specifics:
Motorola SLR 5700
Commscope DB-413 12 dBd cardioid directional pattern, aimed toward Helena. Tower height is 100 feet, repeater antenna is on top. Antenna HAAT = 46 feet.

Operational mode:
Single-mode, DMR only

Networking:
DMR: Brandmeister via Montana Internet

Static talk groups:
Time Slot 1 3130 Montana Statewide, 31302 MPRG2, 31303 BGV, 313007, 8 MPRG Cluster
Time Slot 2 31301 MPRG1 Mac Pass Repeater Group

Dynamic talk groups:
Time Slot 1 All BrandMeister talk groups
Time Slot 2 PLEASE DO NOT USE TIME SLOT 2 for dynamic talk groups

Remarks:
Coverage includes US-287 from Helena to Three Forks

7/19/20 The original Hytera RD982 was replaced with a Motorola SLR 5700 repeater. Analog FM mode and EchoLink node WR7AGT-R/449300 are no longer available.
5/28 EchoLink computer back on-line after Tom visited site and power-cycled. It had stopped working a few months ago.
1/18 EchoLink computer fixed itself, site is back to full dual-mode.
10/~/17 EchoLink computer stopped working. Toston will continue to operate in Dual Mode but analog FM conversations won't be part of the network until we are able to work on the computer next summer.
1/30/17 New Hytera to PC interface installed and tested. Toston is now Dynamic Dual Mode with EchoLink as well as BrandMeister networking.
10/12/16 The Hytera RD982 had to make a trip to Hytera repair to deal with an audio issue but its back, on the air at Toston, working well. It is operating dual mode, networked to Brandmeister for DMR networking but stand along for analog FM. When we nail down an interface design, analog FM will be networked to EchoLink.
9/4/16 The above information is preliminary. We expect to replace the existing Motorola MSF-5000 repeater with the new to us Hytera RD982 repeater within the next two weeks.


Coverage map depicting the service area of the Toston UHF DMR repeater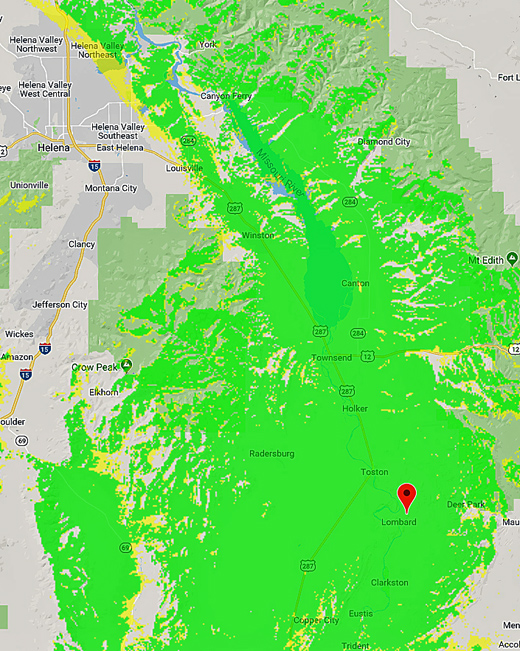 Hytera RD982 repeater in a Motorola cabinet with a Motorola battery revert power supply and a Telewave duplexer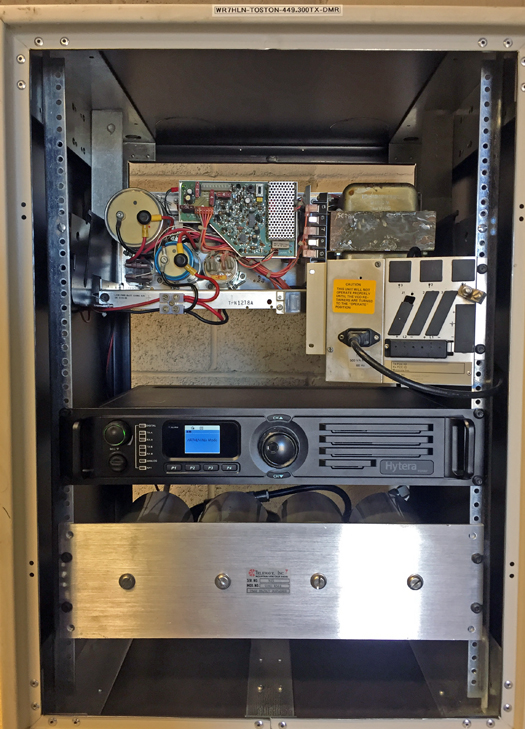 Oak, for your winter comfort