Great Falls UHF DMR
Mac Pass Repeater Group WR7HLN
Contact: Tom WR7AGT [email protected]


Repeater particulars:
449.200 MHz, minus 5MHz offset
DMR Admission: Color Code 2
DMR ID: 313008
Note: Color code is different from what is used at most other MPRG sites

Location:
7.5 miles NNE of Great Falls.

Equipment specifics:
Motorola SLR 5700
Commscope DB-408 6dBd omni pattern. Tower height is 50 feet, repeater antenna is on top. Antenna HAAT = 322 feet.

Operational mode:
Single-mode, DMR only

Networking:
DMR: Brandmeister

Static talk groups:
Time Slot 1 3130 Montana Statewide, 31302 MPRG2, 313008, 8 MPRG Cluster
Time Slot 2 31301 MPRG1 Mac Pass Repeater Group

Dynamic talk groups:
Time Slot 1 All BrandMeister talk groups
Time Slot 2 PLEASE DO NOT USE TIME SLOT 2 for dynamic talk groups

Remarks:
6/7/20 The original Hytera RD622 was replaced with a Motorola SLR 5700 repeater. Analog FM mode is no longer available.
6/14/19 On the air!

Expected mobile coverage on I-15 extends from south to north from Cascade to Power, from west to east from Simms to Raynesford.



Coverage map depicting the service area of the Great Falls UHF DMR repeater
Click on this image to view the full-size version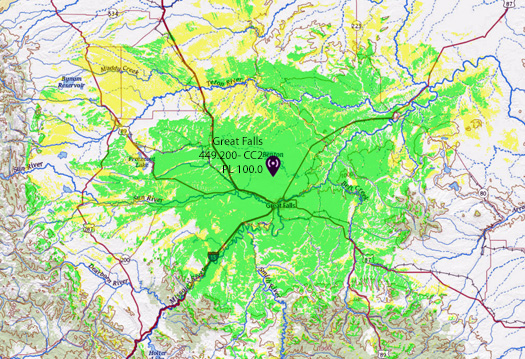 Installing the 4-bay dipole antenna